January: In Berlin, meets Margarethe Kaiser, the widow of the playwright George Kaiser, now sharing with Lenya an apartment on the Olivaerplatz. Renews acquaintance with Paul Moor. Later in Zürich, meets Caspar Neher and discusses a revision with Lenya a revision of Die Bürgschaft on which they are to collaborate. It will discard all the textual and musical revisions made in 1957, and restore what little had survived from Weill's own revisions. Neher is wholly in favour, and later writes to Lenya to confirm his agreement.
5 March: Visit to Dorking with Oliver Neighbour to hear Vaughan Williams conduct the St Matthew Passion with the local Bach Choir - as he has done every Easter since he founded the choir in 1946.
2 April: Again with Neighbour, D attends the world premiere in London of Vaughan Williams's Ninth Symphony, conducted by Sir Adrian Boult. The symphony - which is not as well received as it deserves to be - will be given again during the summer Prom season at the Royal Albert Hall. But that will be the last performance in the composer's lifetime: he dies at his London home on 26 August, a few hours before his planned attendance at the first session for Boult's now historic recording of the Ninth.
Summer/autumn: First visit to USA; with the indispensable help of Margarethe Kaiser (who meticulously deciphers old German script), DD begins work on the Weill papers and manuscripts in Brook House, Weill's home in Rockland County, N.Y. In New York. First of many discussions with Marc Blitzstein. Meetings with many former associates of Weill and with prospective translators, including W.H. Auden and Chester Kallman.
30 October: Together with Lenya, signs Agreement with Little, Brown and Company of Boston for the American rights in a so-called "official" biography of Weill ('not less than 125,000 words') and in Lenya's autobiography ('not less than 70,000 words'). J.Randall Williams, a senior executive at Little, Brown, will be an active and understanding supporter of the projects until his retirement some ten years later. In due course Faber & Faber - represented concurrently by Peter du Sautoy, Donald Mitchell, and Patrick Carnegy - will assume responsibility for the publication in the UK and Commonwealth of Drew's now voluminous Life & Works.
Begins WEILL: LIFE AND WORKS by writing essays on each of the Broadway musicals. All will be discarded in the early 1960s as fundamentally misguided, and replaced, one by one.
Publications: Topicality and the Universal: the strange case of Weill's 'Die Bürgschaft' (Music and Letters); Brecht versus Opera (The Score); DECCA BOOK OF BALLET (ed. with Robert Boas and Quita Chavez).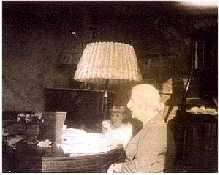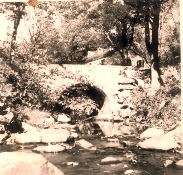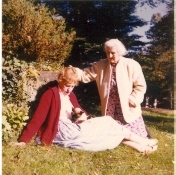 Margarethe Kaiser and Lenya (beneath lamp), Berlin 1958
Brook House - the bridge
Lenya and Margarethe Kaiser, Brook House, Summer 1958
Photos © 2003 by David Drew